Each room in a home tells a unique story.
The home is where memories are created; precious moments are shared, where life experiences happen. It is where we retire after a long day, where we celebrate milestones, where simple pleasures are enjoyed.
The spaces that make a house a home are the areas in which family or guests spend time and feel comfort within their environment.
Window fashions create an ambiance within your home, one that is only achieved through the finer details. Using stylish designer fabrics, custom drapery offers a unique approach to creating a warm, inviting and modern atmosphere. No longer considered unfashionable and monotonous, drapery places itself at the top of decorating tips, offering a fresh, modern touch without costing a fortune.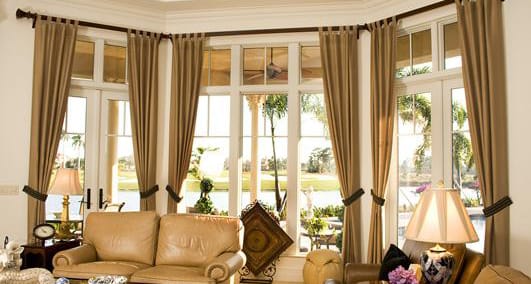 We are pleased to offer our clientele an impressive selection of luxurious fabrics. Workroom by Design creates stylish looks based on your needs, style and budget. With unlimited options to choose from, your custom made drapery will be uniquely yours. Our experts take the time to present different options, looks and colours that match your style and budget. We work with you in order to achieve the overall look that you want to experience each time you walk into a room.
Workroom by Design designers offers an easy, hassle free, and relaxed experience. We understand that deciding on custom drapery can be a challenging task, but it doesn't have to be. Creating your custom drapery has been our line of work for many years, and we have given hundreds of rooms' character, charm and class. We want to tie your room together with the most beautiful custom drapery you've ever envisioned.