Your bedroom is your sanctuary, and creating a relaxing, and peaceful ambiance in a chic, stylish space has never been easier. With our Custom Bedding you can finally create the atmosphere that you've always wanted. Whether it is for the master bedroom, children's room or a guest suite, Workroom by Design has the largest selection of custom options for a good night's rest.
Select from the finest fabrics for custom made duvet covers, comforters, bed skirts and bed linens. The largest piece of furniture in the room will be draped with luxurious linens, instantly setting the tone and style of your space. Custom Bedding provides customers with the ease of creating one overall look and feel. Each piece is created in fabric you love, the pattern you adore and texture that is smooth to your touch.
Decorating and stylizing your sanctuary with deluxe fabrics doesn't have to be a rare luxury. Workroom by Design offers hundreds of fabrics and styles, all finished to the same high-quality standard. Need trimmings and more details? Not a problem. We can create the look you are dreaming of. Never again will you have to compromise, or worry that your bedding doesn't match your drapery or window treatment colour palate, that's the beauty of custom bedding. Workroom by Design guarantees that your custom bedding will match your other furnishing perfectly.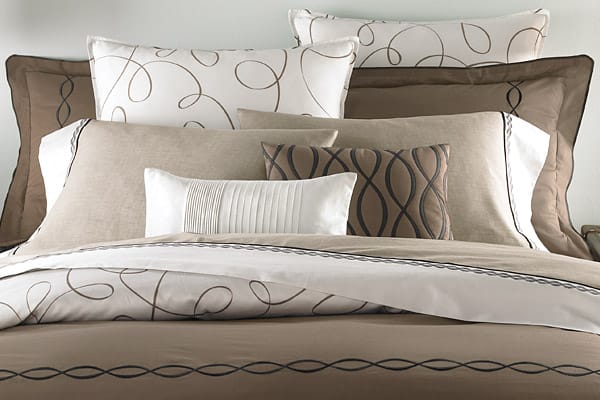 Offer your bedrooms a unified look with custom bedding. Set the tone with bed linens that reflect your taste. Custom bedding provides a clean, attractive finish that will leave your room looking polished and refined.